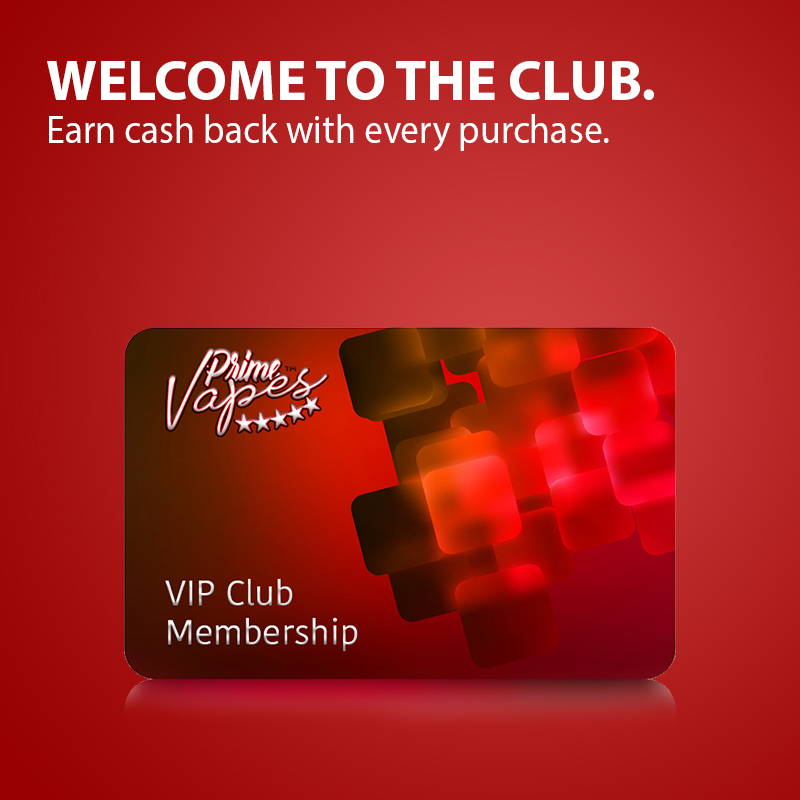 Join the VIP rewards program for free and unlock awesome discounts.
The Prime Vapes VIP reward club is free to join and as a member you'll earn points with every purchase you make.
Points can be redeemed at different levels to unlock extra discount vouchers, these vouchers can then be spent at our store on anything we stock.
Save up your points and treat yourself to a free bottle of e-liquid, or perhaps a new mod or tank, the choice is yours.
After signing up, simply log in to your account and place your order as usual.
On everything you buy, for every £1 you spend you earn 1 point.
Unlock your rewards, spend them on whatever you like in our store.
It's super easy and super quick to join the VIP club, simply sign up for an account and you'll be automatically signed up for rewards.
I already have an account?
Perfect, you dont need to do a thing, you're already set up to collect rewards. The VIP club was launched on 04/02/21, any orders placed on or after this date will be eligible for rewards.
Can you backdate my points for previous orders?
Unfortunately not, rewards will be collected for all orders placed on or after 04/02/21. We cannot add points to you account for orders placed before this date.
No, your points have no expiry date. You can save them up or spend them when you like. The only way your rewards will expire is if you close your account yourself.
How do i spend my rewards?
We offer various vouchers for different points levels, with more gifts and perks planned for the near future too. To view your rewards simply click the small VIP club logo located at the bottom left of your screen.
Can i use my rewards with other discounts?
Reward points may be used in conjunction with all products including sale items, you may also use them on top of multi-buy Eliquid bundle deals.
Reward points can not be used with any promotional one off flash sales where we provide a discount code, for example Black Friday or other one off discount codes. But you will still earn rewards during these sales!
When will my points be added to my account?
Usually very quickly, however please allow a couple of days for them to update before contacting us. They can take a while on occasion to update.
Where can i check my points balance?
You can check your balance at any time, just log in and then click the little red icon at the bottom left of your screen, you can see your balance here and how far away from the next reward you are.
Can i exchange my points for cash?
Unfortunately not, reward points have no cash value, they may only be redeemed against purchases at prime vapes online store.
Is there any limits on how many points i can earn?
No! Earn as many as you like and spend them when ever you like.
How else can i earn points?
At present, you can earn points by signing up and placing orders, we have plans to release new features in the near future, these are likely to include leaving reviews, referring friends, double points weekends and more.
Can i transfer points to another account?
Unfortunately this is not possible, please use one account in our store, we are unable to transfer points.